For the Abdoun Branch the challenge was dealing with the architecture of an existing residential building from the 1990's, and create the monolithic identity that the bank has. A cantilever white slab was created as an edge to slice the building defining the old and the new each respecting and emphasizing the other.
New masses were born from the slab, moving around the existing walls behind it, and allowing for spaces inbetween revealing the shadows of the spaces behind. The use of the fabric between two glass panels allowed for hints revealing the interior of the bank yet maintaining the privacy needed.
The concept of the interior design for the Invest Bank projects was to overcome the traditional negative perceptions which associated with institutional, bureaucratic and stuffy environment as well as being a dreaded chore, not a destination for a pleasant experience, and to make a leap forward into a new pleasant culture of banking experience. The new brand environment promotes a young and progressive, clean cut, energetic, efficient, innovative and creative, approachable and socially responsible banking.
The concept is a new hybrid borrowing experiential tactics from three other typologies. Distinct materials associated with the three typologies carry many meanings by subliminal experiential association. Those very meanings constituted the residual quality intended for the bank.
From the minimal, bright and uplifting spatial manifestations were brought to play. Intimacy, distinctiveness and innovativeness were borrowed from themed boutique hotels; while harmony, serenity, congeniality and sensual ambiguity were borrowed from wellness sanctuaries. Intertwining all these qualities, the bank became a modern pleasant experience that eliminated clutter and visual noise and also made the bank friendly, approachable and distinctively innovative in its many clean details, simple lines in addition to custom detailed material assemblies.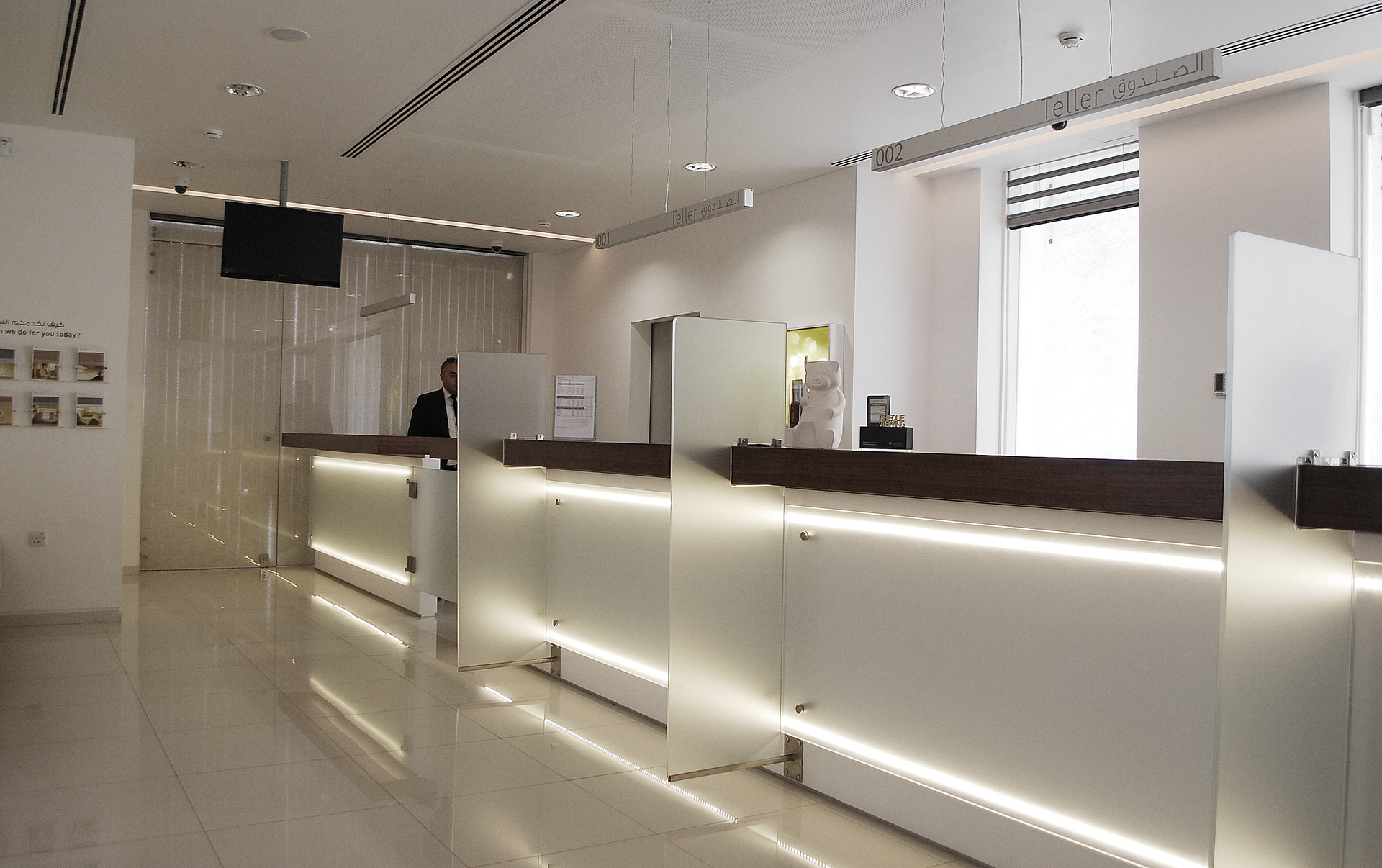 Location: Amman, Jordan
Client: Jordan Investment Finance Bank
Built-up Area: 450 sq.m
Associate Consultants:
Structural Eng: International Designers Engineers,
Electrical Eng: Spectrum Mep.
Mechanical Eng: Spectrum Mep.