A Dubai Design Week initiative, Abwab, meaning "doors" in Arabic, is a series of six architectural pavilions that showcase the work of the most exciting designers, studios and curators from six different countries in the Middle East and the near region. Inspired by the imagination that drives childhood play, the Jordan pavilion draws on the swing, or 'murjeiha' to evoke memories of its designers' childhood. With the help of accelormeters and Arduinos, the team introduced interaction design that allows one to generate and activate the present surroundings while challenging gravity. The simple swinging motion converts into a visual and audible translation, the designers said in a release.
Imagination had magnifying and augmentative powers that took mundane things from around us to transform them into manifestations far more or bigger than what they are. It was so easy for us to live alternative realities where we're gymnasts with a little stolen flour from home, enjoy a delicacy made completely out of mud or grabbing a mattress to become our speedy slide down the stairs.
Our playtime transformed from blank pages into journeys drawn out by our imaginations through jumping, swinging, defying gravity and even role playing."
"We recreated the swing, or "Murjeiha" in colloquial Jordanian, in an immersive experience that employs an environment of blank canvases lending themselves to be transformed and imagined-upon.
With the help of accelorometers and Arduinos, we introduced an interactive design that allows you to generate and activate your surroundings all while challenging gravity. The simple swinging motion converts into a different visual and audible translation."
The swing seats represent the solid and 'grounded' elements of the installation, using the heritage from the Palestinian and Jordanian geology. Each stone is from a different part of the two countries, gaining their names from the various cities and villages of their source. 
The swing is universal – everyone knows what it is, its an intiative game that invites one to take flight. It's all about imagination.  The fabric surrounding the installation represents the more volatile and airy element that accompanies the dreaminess of the imagination. The empty canvas that allows one to imagine his own world on.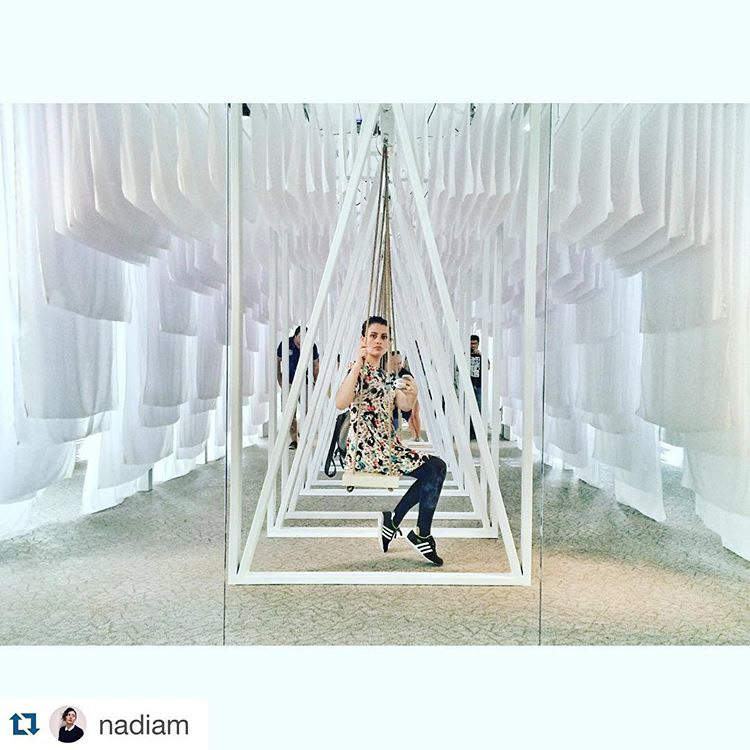 The pavilion was curated by Arini Creative Platforms, a non-profit institution promoting design, architecture and urbanism, founded by Mohammad Aljabi, Heba Najada and Liyan Jabi.
Design team: Dina Haddadin, Omar Al-Zo' bin, Rand El Haj Hassan, Rula Yaghmour and Arini (curator).